SOLITAIRE BANGKOK SUKHUMVIT 11 MAKES ITS 3RD ANNUAL DONATION TO THE ASIAN ELEPHANT FOUNDATION OF THAILAND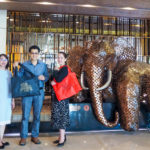 Solitaire Bangkok Hotel led by Khun Rami Nuek (1st from right), General Manager, donates THB 25,397 to Khun Samang Pandam (1st from left) and Khun Sommai Homswat (2nd from left), representative and volunteer of the Asian Elephant Foundation of Thailand to celebrate the annual Thailand National Elephant Day (March 13th).
Since opening in December 2017, Solitaire Bangkok has year on year participated in activities supporting the foundation and all elephants around the country through raising funds via a donation box, adopting a baby elephant "Tabtim" in Ayutthaya, and selling hotel's elephant collection souvenirs; Mr. Lazy Elephant's eco-friendly shopping bag, "Somkid" the biker elephant doll, and so on through the hotel's official Facebook page, in which for every purchase made, THB 50 will be donated the Asian Elephant Foundation of Thailand.
For those who wish to support the Asian Elephant Foundation of Thailand donations can be made to the foundation's bank account, Krungthai Bank, Account Name "Asian Elephant Foundation of Thailand", Account No. 067-1-01641-5, Savings Account, Government House sub-branch, or dropped into the donation box in the lobby of Solitaire Bangkok beside Mr. Lazy Elephant, or at other locations around the country.
SOLITAIRE BANGKOK
75/23 Sukhumvit Soi 13, Bangkok 10110, Thailand
Tel: +66(0)2 081 3999
Website: www.solitairebangkok.com
Facebook: www.facebook.com/solitairehotel11