Give Blood To Save Lives – Marriott Teams Up With Thai Red Cross To Host Blood Donation Drive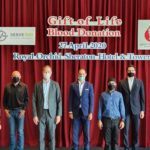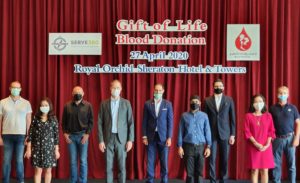 27 April 2020, Bangkok, Thailand – Marriott International is actively supporting the fight against COVID-19 in Thailand, by joining forces with the Thai Red Cross Society to host a blood donation drive in Bangkok.
This important medical event, which took place at the Royal Orchid Sheraton Hotel & Towers on Monday 27th April 2020, invited healthy Marriott associates to donate their blood. This will now be provided to hospitals across Thailand, helping to ease the shortage of blood and save lives.
An estimated 182 volunteers visited the riverside property's Royal Orchid Ballroom from 9am until 3pm, donating approximately 72.8 liters of blood to the Thai Red Cross Society. The hotel's team members helped to set up the room and equipment, including sun lounger beds, while also offering food and beverages to the medical team.
"The outbreak of COVID-19 has presented an unprecedented challenge to the world, and organizations like the Thai Red Cross Society are on the frontline of the battle against this terrible virus. Due to the severe pressure this pandemic has put on medical resources, Thailand is experiencing a blood shortage crisis. This is affecting a large number of patients at hospitals across the country, who are waiting for blood transfusions," said Michael Schlueter, General Manager, Royal Orchid Sheraton Hotel & Towers.
"During these difficult times, it is more important than ever that we support each other and our community. We are proud to partner the Thai Red Cross Society for this highly important blood donation initiative. Marriott International will continue to provide our full backing and resources to the medical authorities throughout this emergency," he added.
This event forms part of Marriott International's global CSR program, "Serve 360: Doing Good In Every Direction", which commits to creating a positive and sustainable impact in every destination in which we operate.
For more information, please visit serve360.marriott.com. Alternatively, to learn more about the Thai Red Cross Society, please visit english.redcross.or.th.
Photo shown from left:
1. Mr. Robert Wittebrood
Hotel Manager at Sheraton Grande Sukhumvit, A Luxury Collection Hotel, Bangkok
2. Ms. Sawanee Areephan
General Manager at Marriott Executive Apartments Mayfair Bangkok
3. Mr. Peter Caprez
Cluster General Manager at JW Marriott Bangkok and Courtyard by Marriott Bangkok
4. Mr. Jakob Helgen
Area Vice President – Thailand, Vietnam, Cambodia & Myanmar
5. Mr. Peter Lucas
General Manager at The Westin Grande Sukhumvit, Bangkok
6. Mr. Amarin Narula
Director and Executive Board Committee at Royal Orchid Hotel (Thailand) Public Company Limited
7. Mr. Alexander Kellermann
General Manager at Marriott Executive Apartments Sukhumvit Park
8. Ms. Duangjai Rungreangaree
General Manager at Aloft Bangkok – Sukhumvit 11
9. Mr. Michael Schlueter
General Manager at Royal Orchid Sheraton Hotel & Towers