Durian Dessert Delicacies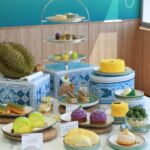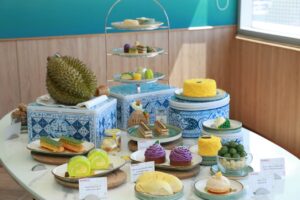 Ventisi – The Thai, at Centara Grand at CentralWorld is proud to announce the launch of our new exclusive durian dessert delicacies prepared by our very own resident Executive Pastry Chef Thawat available from Now to 31 August 2021.
Durian is known worldwide as "The King of Fruits". It's a tropical fruit with a hard, spikey outer shell. It has a creamy, smooth, and buttery texture and is often described as tasting like cheese, almonds, garlic, and caramel. At Ventisi our desserts are prepared daily using the very best divine Cha Nee / ทุเรียนชะนี (gibbon) and Mon Thong / ทุเรียนหมอนทอง (golden pillow) durians.
Executive Chef Thawat has prepared the following selection of 11 absolutely mouthwatering tiramisus, cakes, chocolates, and pastries priced from as low as THB 30++:
Durian Tiramisu: THB 155++/pc.
Durian Pastries: THB 140++/pc.
• Durian & Chocolate Opera Cake
• Durian & Coconut Mousse Cake
• Durian & Pistachio Éclair
• Durian Choux
• Durian Double Cheesecake
• Pandan & Durian Roll
• Purple Sweet Potato Mont Blanc with Durian Cream
Mon Thong Ice Cream: THB 90++/cup
Chocolate Desserts: THB 30++/pc.
• Durian Rocher Chocolate
• Durian White Chocolate Truffle
Our durian dessert delicacies are available for pickup daily from 07.00 hrs. to 19.00 hrs. at Zing Bakery on the G floor at Centara Grand at CentralWorld or delivered to your home or office via GrabFood:
– GrabFood: https://bit.ly/3zfVkv4