Homemade Italian Cooking Delivered to Your Door! from No.43 Italian Bistro, Cape House Hotel, Bangkok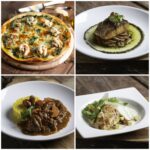 No. 43 Italian Bistro, Cape House Hotel, Bangkok, one of Bangkok's premier Italian restaurants, proudly presents a taste of Italian homemade cooking for delivery to your door. Enjoy exclusive authentic Italian cuisine featuring Fettuccine Black Ink Seafood; Seabass Fillet Pan-fried with Garlic, Parsley and White Wine; Steamed Salmon with Saffron Vegetables; Ossobuco; Beef Lasagna and Caesar Salad with Grilled Chicken. Furthermore, enjoy Italian homemade pizza using premium succulent ingredients: highlights are Parma Ham and Rocket Pizza; Seafood Pizza with Mozzarella Cheese; Smoked Salmon Pizza with Tomato Paste and Mozzarella Cheese; Affogata Pizza with Mozzarella Cheese, Shrimp and Spinach and more delicacies. Order from now until 30 September 2021.
* The delivery service is available from 10.00-20.00 hrs. (Last order at 19.00 hrs.)
* Free Delivery with a minimum spend of 800 Baht and within 5 kilometres of the hotel.
Please call to order in advance at Tel: +66 (0) 2658 7444 Ext. 285 or via LineID: @no43bistro.
*In line with Cape&Kantary Hotels' commitment to support the prevention of cruelty to animals,
we do not serve Shark Fin, Bird's Nest and Foie Gras in our restaurants.