Devasom Khao Lak's TAKOLA and Beach Grill | Bar receive two MICHELIN awards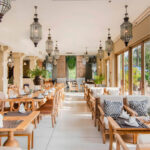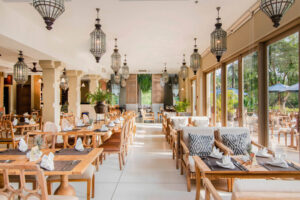 The fourth edition of The MICHELIN Guide in Thailand, entitled The MICHELIN Guide Bangkok, Chiang Mai, Phuket & Phang-Nga 2021 unveils new stars and noted culinary establishments in key tourism destinations all over Thailand. Among the revered and recognized are Devasom Khao Lak's two restaurants, TAKOLA Thai Restaurant and Beach Grill | Bar, that received Bib Gourmand and the MICHELIN Plate awards respectively.
Opened in 2018, Devasom Khao Lak is not only a holiday destination for discerning travelers but also a treasure trove for gourmands looking to delight and entice their palates. Among 106 restaurants and eateries in Thailand awarded with Bib Gourmand – the delightful little restaurants selected by MICHELIN guide inspectors for their "very good value for money" – is Devasom Khao Lak's signature outlet, TAKOLA Thai Restaurant that serves up flavorful, sophisticated Thai dishes with homage to local wisdom. At TAKOLA, patrons get to savor Thai delicacies prepared with old recipes that have been passed down from generation to generation. Locally sourced ingredients – fish from local fishermen, eggs from organic farms and seasonal greens from local producers – are mainly used to ensure freshness, high quality and sustainability while supporting the local community.
Recognized for "a carefully prepared good meal with fresh ingredients" is Beach Grill | Bar that was awarded with the MICHELIN Plate. Known and loved for its Mediterranean fusion cuisine, Beach Grill | Bar serves its sumptuous, hearty dishes prepared with high quality local seafood in elegant and relaxing atmosphere where guests can feast their eyes on the view of the stunning Andaman Sea.
TAKOLA Thai Restaurant opens daily from 7am to 11pm, while Beach Grill and Bar opens daily from noon to 11pm.