KTC in association with VISA provide special privileges at all SEPHORA branches.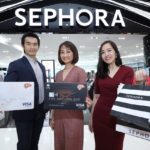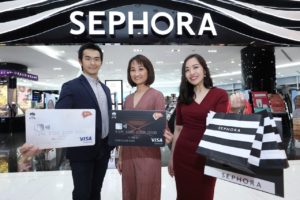 Mr. Sorachach Srilamul, Senior Manager – Credit Card Business, "KTC" or Krungthai Card Public Company Limited, jointly with Ms. Angsumalin Fordham, Head of Business Development, VISA International (Thailand), and Ms. Jutatip Issarangkoon Na Ayuthaya, CRM Manager, SEPHORA Thailand, provide cardmembers worthwhile special privileges with up to 19% credit cash backs for purchases made using all KTC VISA credit card types at all 12 "SEPHORA" branches and via www.sephora.co.th. First privilege earn up to 6% credit cash backs: earn 3% credit cash backs for every transactions valued at 1,500 Baht per sales slip using KTC credit cards or earn 6% credit cash backs for transactions valued at 15,000 Baht or more per sales slip using KTC credit cards. Members register for the promotion by typing SPR followed by a space, 16 credit card digits to 061 384 5000 (3 Baht/message) or on www.ktc.co.th/sephora from October 15, 2019 to January 31, 2020.
For more information, please contact KTC PHONE 02 123 5000 or visit www.ktc.co.th/shopping, apply for a credit card at any "KTC TOUCH" branches or click link: http://bit.ly/2uPcS19. #UnlimitedBlissful with KTC Card.